What we'll remember in golf from 2021 | Golf News and Tour Information
17 min read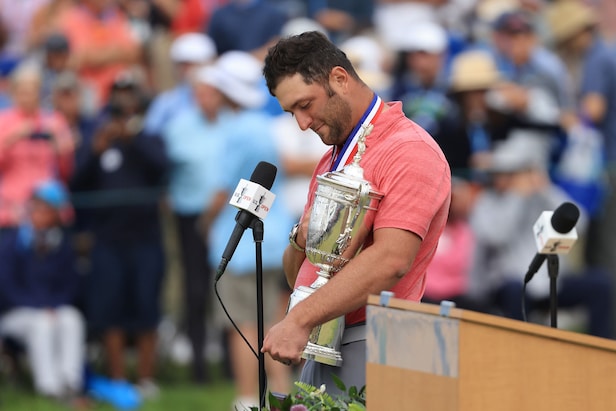 Beauty, it's said, is in the eye of the beholder. The same, perhaps, with beautiful memories. When we asked our writers to think back over the past year and reflect on their favorite golf moments of 2021, many recalled events witnessed by the entire golf world. Others captured more personal vignettes with the game—from trying to find time to sneak in nine holes with a newborn to playing with colleagues for the first time in forever. All, we think, are things everyday golfers will find relatable. Indulge us, then, as we share our beautiful memories of 2021.
Twenty-four feet. Then 18 feet. Then a fist-pump that almost seemed to have a seismic effect. This was Jon Rahm in the final 20 minutes of the 121st U.S. Open at Torrey Pines South near San Diego as the World No. 1 sank consecutive birdie putts to close out a final-round 67 and rally past hard-luck Louis Oosthuizen to become the first native of Spain to win America's national title.
The men's majors in 2021 produced four cool stories, including, of course, the remarkable performance of 50-year-old Phil Mickelson in the PGA Championship. But the poetic justice trophy goes to Rahm, who wasn't sure he would even compete in the U.S. Open after being forced to withdraw from the Memorial Tournament two weeks earlier because he tested positive for COVID-19.
Rahm was the defending champion at Muirfield Village Golf Club and built a six-stroke lead through 54 holes playing, as he said, "the best golf of my life." But as he exited the 18th green after completing a brilliant third-round 64, he was met by a tour official and his trainer, and there on live television he was given the news of his positive test. The sudden reversal of fortune was simply unbelievable. Jack Nicklaus the next day still was in disbelief and told PGA Tour commissioner Jay Monahan, "I wish we could give Jon three-quarters of a trophy."
Then came the rally at Torrey Pines, and Rahm had his hands on all of the U.S. Open trophy—and the Jack Nicklaus Gold Medal that also goes to the winner. Seldom is a golf writer truly just happy for an outcome, for true just desserts. We root for stories, not players, as the mantra goes. This was a great story about a great player. —Dave Shedloski
Playing nine holes had never felt like an accomplishment. But after having a baby, it wasn't something I could just go do. Our sweet little baby would sit patiently in her stroller for half a bucket of balls at a time. She'd watch while I swung and I'd chat to her about tempo, hoping my voice would keep her entertained. She'd come out on the course with my husband and me for a few holes, either in her car seat in the cart or in the stroller.
But nine holes? Not possible.
Until one day I drove out to the nine-holer on the lake a few towns from my parents' house. We made it to the fourth hole before she got frustrated. I sang "Baby Beluga" as I pushed her stroller up to the green, clubs on my back, my calves reminding me proper workouts hadn't yet returned to my routine. I sat on the bench at the fifth tee box, feeding her, thinking once she calmed down we'd walk back to the car and head home.
Getting four holes in was pretty good. But she started to slow-blink. I knew once in the stroller she'd be asleep in minutes. I could keep playing. I clipped her in, quickly hit a drive and walked down the fairway. The steady bumping of the stroller lulled her to sleep before we got to my ball.
I thought about torso rotation and not letting my hips get too fast as I dropped a second ball, and a third. At the green, I hit different chip shots—short-sided, sidehill lie, out of the rough. I drew those last four holes out as she slept peacefully.
Being pregnant and having a baby feels like this impossible miracle, and has left me experiencing uncharted levels of humility, gratefulness and exhaustion in the wake of it. But going through it all during a pandemic hasn't been without its challenges—she's so tiny, so vulnerable and COVID has felt like this ever-present threat, which made stress ever-present, too.
But on the course that day, for those nine holes, I didn't feel stressed. I was relieved of that tension. I felt strong, curious and confident. As I wheeled the stroller to the car, I wondered what in this world will make her feel like that. —Keely Levins
I was delighted and entertained all year watching the best in the world play professional golf, but one moment that made an impact on me came from my daughter. Her name is Nell, affectionately known as Nelly around the house. She is only 5 years old and has a minimal interest in the game; she just knows golf is on TV in our house constantly.
Then came the KPMG Women's PGA Championship, which was up on our TV most of the weekend in late June. She heard and saw the name Nelly Korda as she passed through the room once, and from there, she was locked in on the event despite a limited understanding of the specifics of how it was being played. It prompted her to go out in the backyard and take some swings, and she asked to go to the range—typical requests and activities of her two older brothers. She was locked in for the rest of the year, regularly asking about Nelly's season and how she was doing anytime there was an LPGA event up on the TV. She watched and celebrated the next-morning replay of Nelly"s Olympic gold-medal win with 5-year-old glee in August.
For my daughter, seeing someone simply with the same name resonated with her and drew her in for the rest of the year. It was a reinforcement of what I already know and should be preaching: There are kids in every corner of the globe who could be drawn further into the game when they watch/read/hear about someone that clicks with even a minor (like a first name!), or significant part of their identity. Let's continue to push for, promote, and tell the stories of a diverse professional product that could click with the identity of any kid out there. —Brendan Porath
It was a fall day, the type you imagine when thinking about the fall, but really happens only a handful of times during the season. To spend that day on a golf course is cause for thanks. But what made that day memorable is getting to spend it with my dad.
Technically, I work with him; he is the fact-checker for our magazine. I do not get to see him with much regularity, however. He lives in the Midwest, I'm in the Northeast, and the constraints of the pandemic, like it has done for many families, have added to that divide. Yet he and my mom were able to travel here in October, and me and the old man snuck out on a Sunday morning to get our first round together in what felt like forever. In ways, it was like the many, many rounds we've played together over three decades. We chatted about sports (the Masters, the Cincinnati Reds, Elder High School Panthers basketball, always in that order). We chatted about some of the pieces in the next issue. We chatted about the things that fathers and sons talk about.
But both of us knew this wasn't like other rounds. Not after so much time apart, not after the world being upside down for the better part of two years.
This job takes you to the world's most prestigious tournaments at the sport's cathedrals. It leads to interactions with interesting people and captivating stories. But this round with my dad … it was special, something we both recognized as it was happening. Maybe that's why for the first time I didn't shake my dad's hand on the 18th hole. In its place, a hug. —Joel Beall
I was late pulling up to Rolling Hills Country Club for a Discovery Golf video shoot involving a certain 15-time major winner, L.A.-area traffic being its usual gnarly self, on a chilly Tuesday morning in February, when I noticed a curious lack of movement that suggested something was amiss. Three simple words sent a shiver down my spine: Tiger's not here.
We all knew soon enough. I stayed up all night writing and reporting on Woods' accident. Golf was out of the picture for Woods; the question was whether he would ever walk again. Selfishly, I worried I'd never cover another tournament with that Tiger juice. Golf (and golf media) would have to ween itself off a Tiger addiction.
It's hard to believe that was just 10 months ago—in part because everything seems longer ago than it actually was, but mostly because of the events of the last month. First, the swing video. Then the range sessions at Hero. And finally, an exhilarating show at the PNC Championship. Woods didn't just play; he played beautifully. So did his son. And just like that, the Tiger Woods roller coaster trundles on into 2022. —Dan Rapaport
One of my favorite memories from the 2021 golf season actually involves a gambling loss. It was Aug. 29, the first anniversary of my wedding, so my wife and I went to one of the nicer restaurants in town and sat down at the bar, where I begged the bartender to put on the golf. Patrick Cantlay and Bryson DeChambeau were in the middle of a wild finish at the BMW Championship, and I noticed a few older guys down the way were clearly rooting against Bryson, which was the cool thing to do this past summer.
After informing them I had wagered on Bryson pre-tournament and was looking at a $700 payout (never touch the money), the group, clearly golfers and gamblers themselves, switched their allegiance and began cheering on Bryson with me. It was one of the great displays of gambling etiquette I've ever seen from a few strangers, even though it ended in a painful loss as Cantlay put on a legendary putting performance that remains gutting to this day. All of this was a long way of saying that my wife is an absolute saint. —Christopher Powers
Everybody always wants to know what the pros would shoot at their home course. I got to see the world's best play a national championship at mine. The U.S. Senior Women's Open was at Brooklawn Country Club, in Fairfield, Conn., and the scale of the event was the perfect combination of energetic and accessible. With my wife and three school-aged daughters, I walked right up to the tee to see Annika Sorenstam smooth it past my usual landing spot on the first, and we were right next to Laura Davies when she smacked the turf with her driver on No. 12 to make herself a tee before nearly driving the green on the 325-yard par-4. All of it—from Sorenstam shooting 12 under over four days to dominate, to 82-year-old JoAnne Carner beating her age by three shots, to Golf Digest 50 Best Teacher Cheryl Anderson grinding out a top-20 finish to qualify for next year's event—was part of a superhuman display of skill on a relatable human scale. —Matthew Rudy
Picture this: You're a caddie and you hear that Golf Digest will be having an outing at your local course. Awesome, great. This'll be an easy one. Maybe a pointer or two, a club choice here and there. Call it a day.
Well, that's not what happened. I made sure that he earned every cent.
In November, we held our annual Seitz Cup tournament, a team match-play event between the veterans and the newcomers at Golf Digest. A chance to show your wares, don your best golf get-up and try to embarrass your fellow co-worker. For me, it was also a learning experience … how to play with a caddie watching your every move for the first time.
This is not at all a lambasting of my looper. He did his job, gave some timely advice and knew my bag instantly as well as I did. It's just tough to have someone carry your clubs, tell you where to putt and still botch the attempt. It's quite a bit of pressure.
"You should've made that one."
"Buddy, it's not like I wasn't trying."
However, there was one hole in particular in this rag-tag event in which the caddie handed me a putter with my ball probably 25 to 30 feet off the fringe of the green. We lined the shot up together, I said a quick prayer to the golf gods (hopefully on their yearly sojourn to the Hudson Valley region) and then I let 'er rip.
Seconds later, my ball was in the bottom of the hole. I don't even think I moved, just a blank stare into the distance as I tried to math out how many lottery tickets I should buy that night.
My caddie told me that I hit a hell of a shot, and honestly, it doesn't get much better than that. —Greg Gottfried
It was a welcome break from the sometimes tedious world of professional golf. And, as things turned out, a delight in so many ways. The 12th playing of the Asia-Pacific Amateur Championship at Dubai Creek is a serious tournament in which serious players vie for serious prizes—an invitation to the Masters and an exemption into the Open Championship. Hence the slogan above the title: "Creating heroes: it all starts here."
But there is so much more to this championship than mere competition. It was at Dubai Creek that I came across Vanseiha Seng of Cambodia, the only man who has played in all 12 versions of the AAC. Well, half of all 12. Seng has never made a halfway cut in the event that makes him "feel so special." And it is unlikely he will ever do so. This year a brace of 80s left him 16 shots short of teeing-up in the third round.
When we talked, Seng saw the bigger picture, the smile on his face a constant. "I have been so lucky to meet so many different people in many countries," he said. "The game bridges the gaps between nations. This event has taken me to so many great places. And I have made so many friends with players from other countries like Oman, Bhutan and Mongolia."
Oman. Bhutan. Mongolia. Think of that. So forget the majors. The Asia-Pacific Amateur Championship might just be the most important event in golf. —John Huggan
The day that stood out for me this year was a Saturday morning in August. I signed up to play in my club's two-ball, where you're blindly paired with another member. My pro knows I'm OK playing with anyone, but when I got my card this one got my attention. My partner had a 50 handicap. Yes, 5-0. Turns out, my partner was a great guy. Had left his previous club because he couldn't get a game—a victim of golf snobbery. Plus, he could, at times, make contact, helping outright on three holes, including one 5-net-2 on a par 4.
Out of curiosity I kept his entire score (allocating one to reach the green and two putts on the holes he picked up on). The final tally: 151 strokes. But before you think this was some sort of hardship, let me tell you this: He was not only thoroughly enjoyable to play with, but we finished in under four hours. We also finished third out of 24 teams, making his day by hitting the podium. I had one of my best rounds of the year, a 76 with a pair of doubles.
Without trying to sound too preachy, let's put the mantra that good players can't play with bad golfers to bed. While we're at it, the "bad golfers are slow players" thing too. Because this wasn't a difficult round to endure. It was a great day. One worth revisiting. —E. Michael Johnson
Thank you Richard Heathcote. We've never met, though I know you have an impressive professional résumé as a photographer for Getty Images and have covered most of the world's great sporting events. On the Sunday of September's Ryder Cup at Whistling Straits, you captured an image that is my favorite in golf for the year. It makes the all-time list, too.
The American players were in the midst of a roaming on-course celebration with their rout of Europe well in hand, and though the rowdy winners' press conference would grab headlines and web hits, it was the smaller moments of joy that told the better story. One of those was captured by Heathcote, who caught Xander Schauffele and Justin Thomas in the greatest of true Bro Moments. While Thomas carries an enormous bottle of Moet champagne up a fairway, a beaming grin on his face, Schauffele, his legs looking a bit rubbery, holds a cigar to his mouth and appears to be doing his best Jack Nicholson imitation. Clearly, they are well on their way to a full and blissful plastering.
The photo made me chuckle the first time I saw it, and every time after. There is such unbridled glee on their faces—the type of abandon professional golfers rarely display for us. But that is the beauty of the Ryder Cup. These two guys—fierce competitors who don't seem to often run in the same crowd—were as happy to be together as any World Series or Super Bowl players celebrating in the locker room. It was the end of a very, very long season, and they were clearly eager to release every drop of steam. They're having one of the greatest days of their lives, and we get to share in that. Golf has its grand individual moments, but there's nothing quite like winning for your friends and your country. —Tod Leonard
In terms of strength of field, available World Ranking points or purse size, the Golf Digest Trainwreck was approximately the 13,876th most important golf tournament played in 2021. But this best-ball stroke-play tournament contested among Golf Digest staffers still provided my favorite golf memory of the summer. More than just a marginally competitive outlet for a collection of golf nerds, the Trainwreck was also a much needed IRL gathering after a year on Zoom, and a reminder of why we're lucky to work where we do. Even the fact that the Trainwreck featured an all-time closing collapse by yours truly—four double bogeys to close after a highly promising start—proved a blessing, because it allowed the opportunity to be just an enthusiastic spectator for a raucous two-team playoff.
So there we were, two dozen or so also-rans with drinks in hand gathered around the tee box as our four colleagues—the team of Christina Parsells and Christian Iooss versus Ron Kaspriske and Chris Reynolds—had to actually play golf with eyes on them. When the four tee shots were launched, we all marched down the middle of the fairway—think Tiger Woods at the 2018 Tour Championship, but you know, not really—then snickered and scrutinized each shot as they closed in on the hole. Ultimately a 10-foot putt by Kaspriske, with an assist from whatever lethal concoction was in his drink cup, was the clincher, and we all retreated back to the clubhouse. It was my favorite golf moment of the summer. Even better, it counted as a day of work. —Sam Weinman
At the risk of coming across as a spoiled golf writer, not to mention showing my age, 2021 marked the eighth time I covered the Walker Cup in person and the 19th time I wrote on site from the U.S. Amateur. Emphasis on in person and on site. Along with everyone, the COVID-19 pandemic changed much of what I'd been used to personally and professionally. My home was my office, and Zoom press conferences were how I reported on tournaments until, finally, 21 months after my last event, I arrived at the media center at Seminole Golf Club in May. Thankfully, there was a bit of a "riding a bike" feel as I adjusted again to scribbling in a notebook and interviewing players, officials and family face-to-face rather on a screen. Same thing at Oakmont Country Club in August. It felt comfortable quickly, even while wearing masks around these historic clubhouses.
After returning from both events, however, I came to appreciate once more what I really missed about them: the pure and genuine love of the game and competition that these players at the amateur level exude. Not yet jaded by agents and money and fame, they play with a passion inspired by the dreams they hope to one day fulfill. And thankfully the pandemic had not dampened their enthusiasm. The week in South Florida was made surreal by a stomach bug that ravaged the U.S. and Great Britain & Ireland teams, everyone grateful COVID-19 was not the cause. And a rainy week in Pittsburgh made an already exhausting tournament an even tougher grind. But in the end, the enthusiasm of the victorious American team and James Piot, clutching their trophies and absorbing the significance of what they accomplished, were touching reminders of just how special it is to see somebody actually live out their dreams. —Ryan Herrington
In 2021, I learned to appreciate the game again. Don't get me wrong, I'm just as golf obsessed as the rest of the writers who contributed to this piece. But things changed a little bit for me when my senior spring golf season at Pomona College in California was officially cancelled. There was always a glimmer of hope throughout the fall of 2020 that we might have been able to compete in some capacity in the spring. Even an exhibition match against our rival school would have been something to look forward to. But as January and February of 2021 ticked by, things weren't looking up. Sure, I could sign up for local tournaments once I graduated and miserably attempt to qualify for the U.S. Amateur again, but those months really marked the end of my competitive golf career.
What was it like to go about my week without playing or practicing almost every day? Without working towards a looming event? It was the unfamiliarity of this new routine, one that operated in the absence of competitive golf, which caused a shift in how I think about this sport to which we're all so addicted.
I started to hone in on the little things—casual rounds became less about beating my personal best at my home track and more about enjoying each hole. I cherished each swing, laughing at sprayed shots instead of bowing my head. I had a heightened appreciation for good reads and the ensuing reach for my ball at the bottom of the cup. I concentrated when I played, but I was also distracted enough by good company to squeeze more out of 18 holes than just a submittable score. When my competitive golf career ended in 2021, I stopped defining good rounds by a number and started viewing them through pure enjoyment of the game. —Gabrielle Herzig
Sometime before the pandemic, a few friends and I made a Slack chat room where we could hang out digitally once in a while if we were watching a game, or just wanted to shoot the breeze. The idea, at the start, wasn"t to form a social club for lonely souls of the plague, but then COVID-19 hit, and that's exactly what it became. We grew over time, encompassing new friends who came into our orbit through pools or trivia or golf Twitter. If you liked the place, you really liked it, in-person meet-ups began happening, and this past summer we hit on an ambitious idea: A 16-person two-day Ryder Cup-style competition, Carolinas vs. The World, at Hillandale Golf Course in Durham, N.C.
Somehow, because this was a group of people who aren't afraid to say "yes," it worked. We came from Texas and New York and Colorado and Indiana and California, our skills ranged from scratch to atrocious, and somehow we even hoodwinked a few non-golfing friends into documenting the matches as "media." Team Carolinas won 13-7, and we finished on a rainy Saturday when, if not for our stubborn presence in the 6 a.m. darkness, the course may have closed. It's one of my best memories of the year, and it's not just about this great game bringing friends and strangers together, but about the triumph of an unlikely new community in a time when circumstances are aligned against communities. A defiance of the new world order, courtesy of golf. —Shane Ryan