The 21 coolest golf equipment photos of 2021 and the stories behind them
13 min read
Golf is a unique sport because amateurs and professionals play essentially the same game on similar golf courses under the same rules. And we all get only 14 clubs to use during a round of golf, so it's always interesting to see what weapons the pros decide to arm themselves with.
Some pros use the latest and greatest gear, while others have clubs that have spent a bit more time in the bag. Some have ultra-exclusive prototypes, and others have retail equipment that's spruced up with a little flair and color.
Nearly every week on the PGA Tour, our equipment insiders at GOLF.com go out to the range and practice greens to take photos of the clubs that pros use. This year, we also went out to LPGA Tour and celebrity golf events to see what clubs they use, too.
Below, I've selected 21 of the coolest and most interesting golf equipment photos we've taken from 2021. Enjoy the photos, and happy holidays!
1) Sandra Gal's 7-wood
To help achieve more forgiveness, height and stopping power than long irons, professional golfers have been switching to higher-lofted fairway woods in droves. Sandra Gal, a Callaway staffer on the LPGA Tour, uses this old-school Callaway Razr Fit Xtreme 7-wood.
What makes this club even more interesting, though, are the strips of lead tape she's added to the back of the club head. The extra weight in that position helps add even more launch and forgiveness.
For amateurs, if you're hitting your long irons too low and they won't hold the green, try out a high-lofted fairway wood like Gal uses.
2) Bryson's weird prototype
Bryson DeChambeau has a unique swing and very particular needs with his equipment. He's also willing to test anything and everything when it comes to gear.
Luckily, Ben Schomin, Cobra's tour operations manager, is willing and able to piece together anything DeChambeau wants to try.
Over the summer, I was able to personally test out some of DeChambeau's most wild designs. They were all interesting in their own right, but the photo above takes the cake. I mean, is that an electrical charger on the back cavity? Very cool, and possibly energy efficient.
3) John K. Solheim goes to work
Covid-19 has made the world into a difficult place in many ways, and the golf equipment space is no different. To keep up with a rise in club demand and shortage in product supply, Ping President John K. Solheim joined the assembly line to help put together golf clubs himself.
For more on that story, check out the link here.
4) Horschel's big time bends
When Billy Horschel showed up to the 2021 U.S. Open, he had Titleist 620 MB irons in the bag that were bent 4 degrees strong. That's a lot of degrees. The lofts changed so much that Horschel had to put different club numbers on the sole. For example, the 8-iron was bent so strong that it turned into his 7-iron. He also added a heap of lead tape on the back cavity, making the irons look ultra custom.
Before trying this for yourself, make sure you know that adding lead tape can drastically change swing weight, and bending lofts can change the bounce of the irons.
All of our market picks are independently selected and curated by the editorial team. If you buy a linked product, GOLF.COM may earn a fee. Pricing may vary.
Titleist 620 MB Irons
$175
Boost your performance while playing the Titleist 620 MB Irons. Designed to provide ultimate playability and precision, the one-piece forged muscle back irons deliver tour-proven flight with increased shot and trajectory control. Progressive blade lengths with thinner top lines allow for incredible shaping and optimized play throughout the round. A tour-refined MB sole improves overall performance and creates smoother, more efficient turf interaction.
Check out 150+ reviews from our gear experts in the ClubTest 2021 collection.
Buy Now
View Product
5) A.J. Hawk's persimmon wood
A.J. Hawk, a former NFL linebacker, played in the American Century Championship this summer using a modern Callaway Epic Speed driver. But his go-to club off the tee is actually a persimmon driver that he found for $5 at a garage sale in Ohio.
Hey, whatever gets the ball in the hole fastest and makes you comfortable on the course is what you should use. Even if it's a club that costs less than a sleeve of balls.
6) Koepka's calm before the Srixon storm
Brooks Koepka used Mizuno irons during all of his major-winning career success, but he showed up to the American Express in January 2021 with a bag full of Srixon ZX7 irons. That's when rumors started flying that he'd be joining the company's staff.
But then nearly the entire year went by and the equipment free agent still hadn't signed a deal with one equipment manufacturer.
Well, in late November, Koepka officially inked a deal with Cleveland-Srixon to play the company's gear. It took a while for the early-2021 rumors to be true, but the gossip mill got this one right eventually.
Srixon ZX7 Irons
$1137.99
OUR TAKE: When we see and try an iron that combines the soft feel of a forged iron with the added distance and forgiveness of a multi-material construction, we get all giddy inside. According to a club tester talking about the ZX. "I felt like I miss-hit a few, but you'd never know it by the ample amount of forgiveness. They aren't far off from the set I no
THE DETAILS: The multi-piece construction combines tungsten toe weights with a forged carbon steel body, resulting in optimal weighting and better vibration dampening and control. There are two models here to choose from—the ZX5 and ZX7. The ZX5 has a wider sole and a slightly longer profile for more stability and forgiveness, while the ZX7 is more compact and has a thinner topline for enhanced shotmaking versatility. Mixed sets are available.
This set comes from 4-PW. 
Check out 150+ reviews from our gear experts in the ClubTest 2021 collection.
Buy Now
View Product
7) Jerry Rice's classics
Jerry Rice is arguably the greatest wide receiver ever in the NFL, and he had arguably the coolest irons in the field at the 2021 American Century Championship. He plays old-school Nike VR Pro blade irons made custom with his NFL jersey number stamped on them.
For an in-depth interview on the irons with Rice himself, click here.
8) Hovland joins team 7-wood
The young Viktor Hovland was a superstar in the golf world even before he turned pro, and he's continued his winning success in the PGA Tour ranks. Although he's a consistent winner, Hovland is willing to test and switch golf clubs from week-to-week.
Except when it came to the 7-wood.
Ping tour rep Kenton Oates said it took months of convincing to get Hovland to switch into a Ping G425 Max 7-wood, but once he did, he peeled off two wins in late 2021. The 7-wood, according to Oates, helps Hovland hit the ball a bit higher for more stopping power on the greens.
Amateurs, take notes. Even the pros need help hitting the ball a bit higher.
PING G425 Max Fairway Wood
$299
OUR TAKE: This year, Ping removed its familiar Turbulators from the crowns of its fairway woods and hybrids, replacing them with 3 alignment dots instead. How did our testers like the new look? "This alignment aid is so much better," one tester declared. And he wasn't alone. "I love the clean crown because it's not too busy," another added. Testers also found that the low profile designs made getting the ball in the air easier, even off low-cut grass.  
THE DETAILS:  Fittingly called Facewrap technology, the new G425 fairway faces now wrap around the crowns and soles to provide more ball speed and launch. That's why the Turbulators aren't on the new G425 models, and why our testers found them easier to hit from the turf. Ping also increased curvature on the faces to especially help with shots hit low on the face. For golfers with differing needs, such as lower spin or draw-bias, Ping placed Tungsten weights in strategic spots on the soles of the three new G425 fairway options. 
Check out 150+ reviews from our gear experts in the ClubTest 2021 collection
Buy Now
View Product
9) Pour one out for English's Ping grip
Harris English had used the same Ping Palm Lock grip since he was in college. That was, until the 2021 Ryder Cup.
With the leather peeling off his grip like a banana, the grip was deemed illegal prior to the singles matches at the Ryder Cup. English and the Ping team tried to save it, but ultimately, he had to put on a fresh Ping Palm Lock grip onto his putter. Rest in peace to his old grip. Our condolences.
10) Air Canada's custom Tad Moore putter
Vince Carter is once of the best dunkers that the NBA has ever seen, and he put on the performance of a lifetime at the 2000 NBA All-Star dunk contest. This custom putter from Tad Moore highlights Carter's four contest-winning dunks on the toe section of the putter.
For Carter's backstory on the putter, check out this link.
11) Bryson faces the controversy
Bryson DeChambeau has been experimenting with different driver faces for years, but during a practice round at the 2021 Northern Trust he was testing out this shaved-face Cobra Radpseed driver that caught my eye. As someone who supports experimentation when it comes to finding the right gear for your game, this one was cool to see for me. If you want to know where the exact center of the face is, the black sharpie mark makes it pretty obvious.
Cobra Radspeed Driver
$449.99
OUR TAKE: With a hammer-like sound and impressive feel, RadSpeed delivered in a big way during GOLF's ClubTest. As one tester raved, "I love the aesthetic. There's some slight carbon fiber you can see in the back, and you can't go wrong with matte black. Feels great, looks great." This was the general consensus with Cobra's latest big stick. In addition to noticing lower spin and a more penetrating flight — thanks to a reimagined adjustable sole weighting system — the eye-catching CNC milled face offered sneaky alignment assistance, framing the ball at address. It's easy to see why this neon yellow and black beauty is Bryson's driver of choice.
THE DETAILS: Cobra is known to push boundaries with its technologies. This year is no different. Building upon standout designs, such as the new-age CNC infinity milled face and carbon fiber crown, Cobra has
also reimagined its sole weighting system. The OEM used tenants from a popular engineering formula, called the Radius of Gyration ("Rad" stands for "radius"), to spread the weights in the soles of the drivers further to the front and the back of the head for desired performance enhancements throughout the lineup. The RadSpeed standard head is lower spinning and lower flying, the RadSpeed XB ("Xtreme Back" weight) is higher launching and more forgiving, and the RadSpeed XD ("Xtreme Draw") has heavy heel weighting to encourage a draw shot shape.
Check out 150+ reviews from our gear experts in the ClubTest 2021 collection
Buy Now
View Product
12) Adam Scott's new 681.AS irons
Adam Scott has been using Titleist's 680 Forged irons for years because of his preference for significant offset in his blade irons. Those irons came out in 2003.
But wait, what are those irons in the photo above? They look like 680 Forged irons from 2003, except they're freshened up. Well, ahead of the 2021 CJ Cup, Titleist made completely custom irons for Scott that mimic the 680 Forged design, but with an updated look.
It's unclear whether these irons will ever hit retail, but for blade iron lovers these are quite the eye candy.
13) Tiger's (backup) putter
Tiger Woods has been playing the same Scotty Cameron Newport 2 GSS putter for basically two decades, and he's captured 14-of-his-15 major using that putter. Over the years, though, he's tried out a number of backup putters made by Scotty Cameron himself.
The putter pictured above was a personal backup putter for Woods in 2002, which recently sold for $393K at auction. Yeah, that's a lot of money.
Over the summer, thanks to Ryan Carey, co-founder of Golden Age Auctions, I was able to personally test out the putter for myself. Check out the video below to see my first reaction and review.
14) The return of Mizuno Pro
Mizuno blade irons are well known in America, but the specific "Mizuno Pro" nomenclature and script font hasn't been around for decades. It has, however, stayed active in Asian markets.
At the 2021 Shriners Open, though, the "Mizuno Pro" name and iconic script font returned in the bag of Keith Mitchell, who was bagging Mizuno Pro 221 blade irons. Is a retail release on the way? Learn more here.
15) Kuchar's no-loft flatstick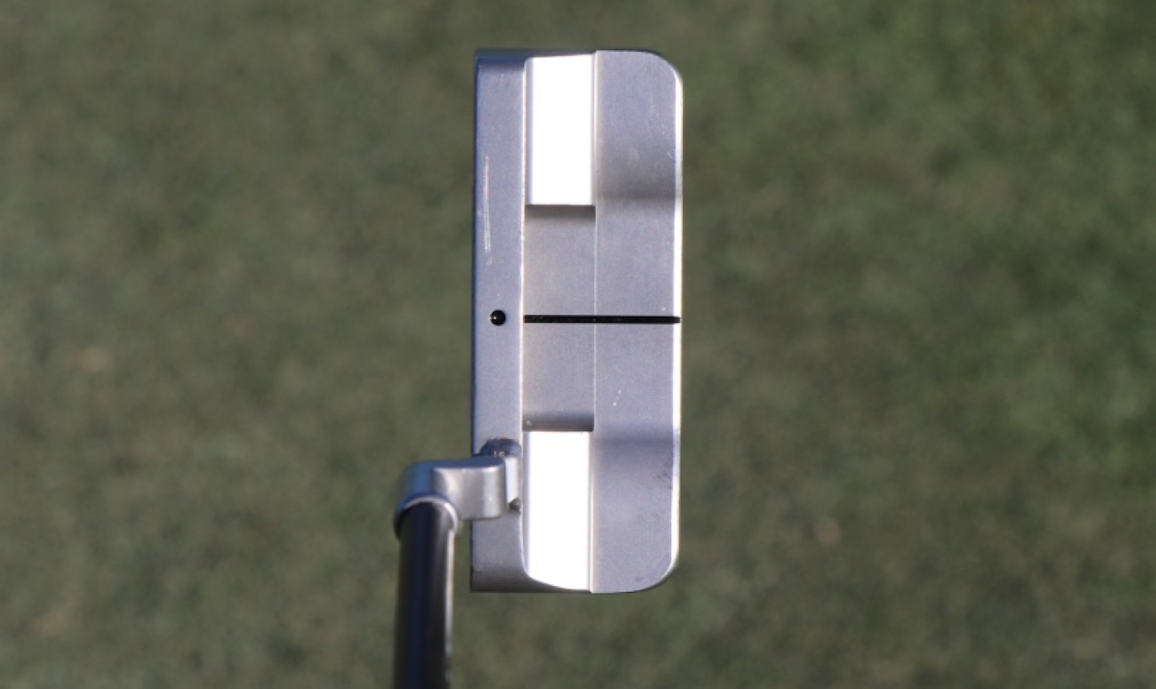 Matt Kuchar has made a lot of money using his left-hand armlock technique on the greens over the last decade. In the last year, though, Kuchar has been experimenting with a right-hand armlock style.
The drastic change has led Kuchar to try out different Bettinardi putters, including the one pictured above that has literally 0 degrees of loft. For reference, most standard putters have 3-4 degrees of loft, and his previous left-hand armlock putter had 7-8 degrees of loft.
While interviewing Kuchar about his right-hand armlock technique, he gave me a personal lesson on the technique. Listen to the behind-the-scenes experience here.
16) Morikawa's cereal wedge
Collin Morikawa loves cereal, and Titleist wedge rep Aaron Dill is his wedge artist. The duo teamed up to create this artistic Titleist Vokey SM8 wedge to celebrate Morikawa's love of cereal. A special shoutout goes to Cinnamon Toast Crunch, the undisputed number 1 on any cereal rankings list. Nice choice, Morikawa.
Titleist Vokey SM8 Tour Chrome Wedge
$159.99
Find your perfect grind with the Titleist Vokey Design SM8 Wedges. Bob Vokey's 6 Tour-proven sole grinds give all golfers a set of wedges fit for their swing type and course conditions. Finely-tuned Progressive Center of Gravity placement achieves improved trajectory, distance control and feel. The Spin Milled groove cutting process and 100% quality inspection prove nothing spins like a Vokey. Vokey recommends 4° – 6° of loft separation between your wedges, resulting in 10-15 yard gaps.
Check out 150+ reviews from our gear experts in the ClubTest 2021 collection.
Buy Now
View Product
17) Aaron Rai keeps them safe
Iron head covers get a bad reputation in the world of golf, but Aaron Rai has a great reason why he uses them. However you feel about iron headcovers, his TaylorMade P-7TW irons are the safest on the PGA Tour.
18) Jonas Blixt's throwbacks
Most would assume that PGA Tour pros play the newest equipment, but that's not always the case. Jonas Blixt, for example, still uses Cobra Pro S3 Pro blades that were originally released in 2011.
His take is refreshing:
"I've tried a bunch of irons through the years, but these go through the turf the way I want them to, so I know how far they go and how they go through the air," Blixt told GOLF.com. "The other irons I've tried, they haven't performed the way I want them to…I don't get any better when I try new ones, I just get worse."
19) JT's terrifying irons
Like Adam Scott, Titleist made completely one-off irons for Justin Thomas, which the company called "621.JT."
Unlike Scott's irons, which were built with more offset, Thomas' irons come with nearly zero offset. Whoa, those look intimidating.
20) Willy Z embraces Happy Gilmore comparisons
It's undeniable, Will Zalatoris looks a lot like Happy Gilmore's caddie from the classic golf movie. Instead of ignoring the comparisons, though, Zalatoris has leaned into the memes and Twitter jokes.
At the recent 2021 Fortinet Championship in Napa, Zalatoris was gaming a wedge that makes a reference to a popular scene in the Happy Gilmore movie.
21) Rory's insane hybrid wear marks
Rory McIlroy used to be a guy who played with unforgiving long irons, but in the last year, he's switched into a TaylorMade Sim Max Rescue club. Apparently, he hasn't missed the center of the face since he switched, either.
Want to overhaul your bag for 2021? Find a fitting location near you at GOLF's affiliate company True Spec Golf. For more on the latest gear news and information, check out our latest Fully Equipped podcast below!