Canada vs. Czechia results: Owen Power's hat trick leads Canadians back from early scare to open 2022 World Juniors
8 min read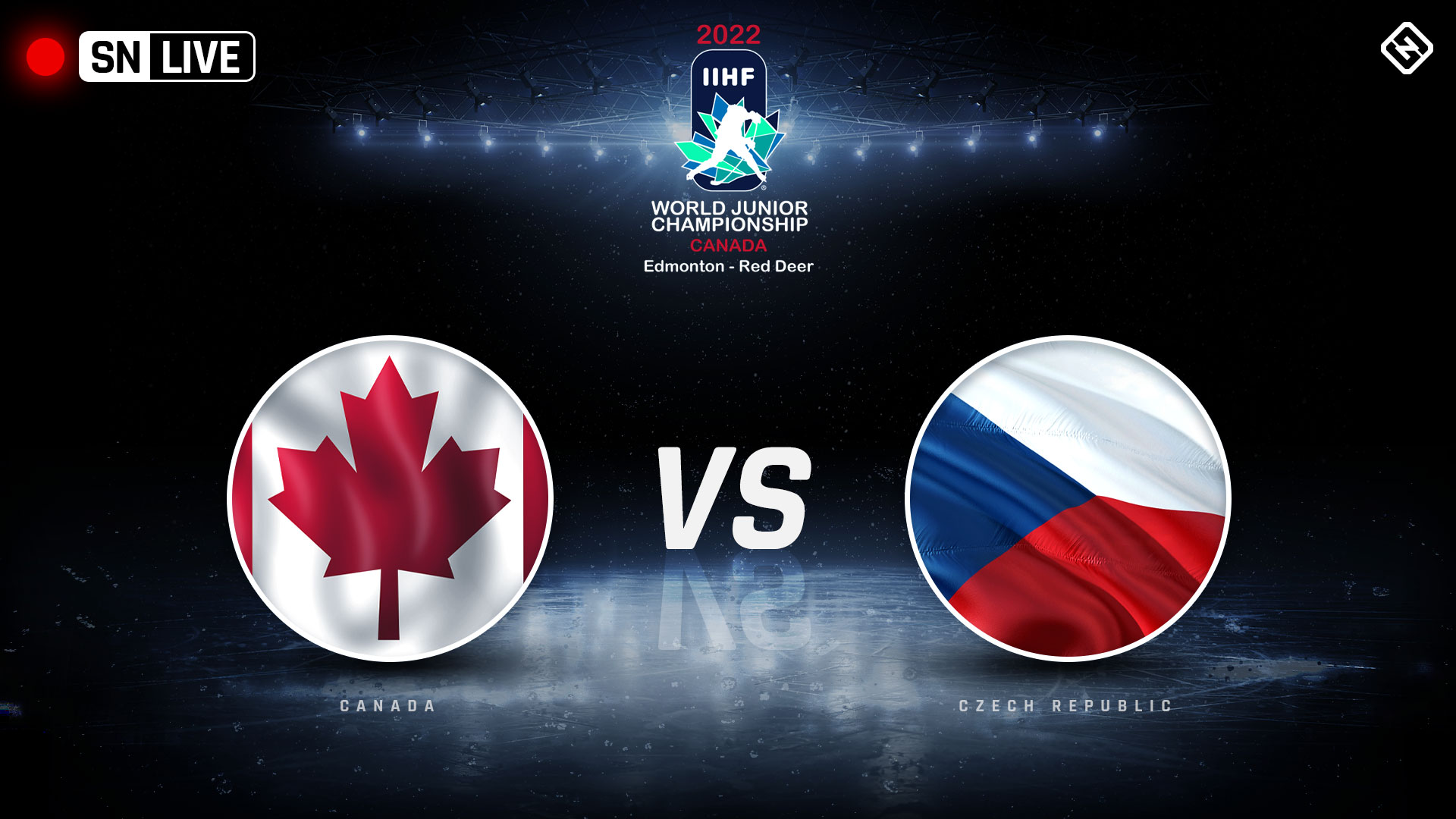 Team Canada didn't get off to the start it wanted — let alone expected — against Czechia on Sunday to open their 2022 IIHF World Junior Championship run. However, that shaky start ultimately led to a timeout that helped Owen Power and the Canadians turn the tide and eventually secure a dominant victory to kick things off in Alberta.
After Mason McTavish got Canada on the board early, the Czechs rallied back, taking advantage of time and space to score three unanswered goal in a matter of minutes and take a 3-1 lead in the opening frame. Dave Cameron then called his team to the bench, and from that point on, Canada's game changed completely.
The defense tightened up, not allowing Czechia pretty much any free time or space to work with to get things going, and Canada piled on the pressure and made the most of the power play.
In the end, it was a historic hat trick from Power in his WJC debut, along with three assists from Cole Perfetti and a multi-point outing from McTavish, that led Canada to a 6-3 win at Rogers Place. Power, the NHL's No. 1 overall draft pick in 2021, became the first defenseman in Team Canada's history to score a hat trick at the World Juniors.
Sporting News kept track of all the action between Canada vs. Czechia in the 2022 IIHF World Junior Championship on Sunday. Look below for complete results from the preliminary round game.
Canada vs. Czechia score
| | | | | | |
| --- | --- | --- | --- | --- | --- |
|   | 1 | 2 | 3 | OT | F |
| Canada | 3 | 2 | 1 | – | 6 |
| Czechia | 3 | 0 | 0 | – | 3 |
Canada vs. Czechia results, highlights from 2022 World Juniors
Third Period
9:39 p.m. ET – FINAL: Canada overcomes an early two-goal deficit and (Owen) Powers their way to a dominant 6-3 victory over Czechia to open their World Juniors run in Edmonton.
9:35 p.m. ET – Canada kills off the penalty near the end of regulation, and Justin Sourdif tries to generate pressure right away out of the box.
9:34 p.m. ET – Much better defensive play for the Canadians here on the penalty kill and through these final 40 minutes. Canada is limiting Czechia's time and taking good care of the puck as well. 
9:30 p.m. ET – Justin Sourdif takes a scary interference call, sending Jiri Tichacek down to the ice. Canada heads to the PK with 5:20 minutes remaining in the third.
9:29 p.m. ET – Xavier Bourgault heads to the locker room after taking a big hit from Stanislav Svozil.
9:27 p.m. ET – GOAL: Olen Zellweger hops on the blue line scoring train and picks the top right corner near the end of the power play to give Canada a 6-3 lead with 6:38 left in regulation. 
9:25 p.m. ET – Canada's power play will go to work again, as Jiri Kulich will go off for hooking Owen Power.
9:20 p.m. ET – The Canadians have been much more aware defensively and quicker on the backcheck, and have not allowed the Czechs pretty much anything since that six-goal first period. Right now, Canada is up 32-11 in shots on goal. Czechia has managed just four shots in the last 30 minutes of play.
9:13 p.m. ET – Owen Power picks up a nice pass from Connor Bedard and goes for his fourth of the night with a great between-the-legs shot, but it doesn't beat Jakub Malek. It's still 5-3.
9:10 p.m. ET – Justin Sourdif getting involved early here, helping cycle the puck in the offensive zone and dishing a big check behind the net.
9:04 p.m. ET – Canada and Czechia return for the final 20 minutes of regulation. The Canadians lead 5-3, and there's still no sign of David Jiricek, who left with an apparent lower-body injury after colliding with Will Cuylle.
Second Period
8:46 p.m. ET – END OF THE SECOND: Two more goals from Owen Power to complete the hat trick puts Canada up 5-3 heading into the third period.
8:42 p.m. ET – That Perfetti-Wright-Bedard trio is making itself prominent and working well out there. It didn't take long for Connor Bedard to work his way into the top-6 rotation, and it's paying off.
8:38 p.m. ET – Canada has been dominating this second period and hasn't given the Czechs much time or space to do anything. The Canadians have limited Czechia to just two shots this period and are dominating 22-9 in shots on goal so far. It remains 5-3 with just around five minutes left in the frame.
8:29 p.m. ET – Owen Power picks up the hat trick in his World Juniors debut, striking on the rebound in front to make it 5-3 on Canada's extended power play. Cole Perfetti picks up his third assist of the game on the goal to boot, and Mason McTavish also picks up another point. The Canadians stay on the man advantage for 35 more seconds.
8:26 p.m. ET – Canada wastes no time taking advantage of the lengthy two-man advantage. Owen Power completes a picture-perfect passing play orchestrated by Cole Perfetti with a rocket of a one-timer for his second goal of the game to put the Canadians up 4-3. They remain on the 5-on-3 power play for 1:30.
8:24 p.m. ET – The Canadians will go to a big 5-on-3 power play for the next couple of minutes with Kent Johnson drawing a tripping call on Jan Mysak and Michal Hradek pushing down Mason McTavish in front.
8:21 p.m. ET – Canada will go to the power play for the first time as Mason McTavish draws a holding penalty on a backchecking Jakub Sedivy.
8:19 p.m. ET – David Jiricek goes down with an injury and leaves the ice after a big collision with Will Cuylle.
8:17 p.m. ET – Kent Johnson and Mason McTavish are doing a great job at moving the puck in the offensive zone and winning those battles along the boards.
8:11 p.m. ET – Looks like Connor Bedard is skating on that top line with Cole Perfetti and Shane Wright. It's a big opportunity for the 16-year-old, who is driving to the net and already has an assist tonight.
8:09 p.m. ET – Canada and Czechia are back for the second period, tied 3-3. The Canadians lead 10-7 in shots on goal.
First Period
7:50 p.m. ET – END OF THE FIRST: Donovan Sebrango's game-tying tally with 29 seconds left in the opening period makes it a 3-3 hockey game heading into the second.
7:47 p.m. ET – GOAL: It's all tied up with just 29 seconds to go in the opening frame. Connor Bedard gets the puck to Cole Perfetti, who sends it over to Donovan Sebrango, who fires a quick shot past Jakub Malek to make it 3-3.
7:46 p.m. ET – Connor Bedard gets a couple of good looks and produces a couple of good scoring opportunities with Cole Perfetti and company with just over two minutes left to go in the opening frame. Canada still trails 3-2.
7:37 p.m. ET – GOAL: It's a wild first period here, and with Canada swarming the net, Owen Power takes a shot from the left side and beats Jakub Malek, who's down in front to pull Canada within one just seconds after Czechia took a two-jail advantage. It's 3-2.
7:34 p.m. ET – GOAL: Stanislav Svozil pulls off a highlight-reel play, going between the legs to beat Olen Zellweger before beating Dylan Garand short side to give Czechia a 3-1 lead less than a minute after their power-play goal. Canada takes a timeout with 7:37 left in the first.
7:33 p.m. ET – GOAL: Pavel Novak fires an absolute rocket off a one-timer from the left circle that goes off the post and in to give Czechia a 2-1 lead on the power play with 8:28 left in the first.
7:32 p.m. ET – Canada will go on the penalty kill as Xavier Bourgault heads to the box for tripping Jiri Kulich in the defensive zone.
7:30 p.m. ET – Mason McTavish is absolutely flying out there. He is taking tremendous care of the puck, keeping the play alive and handling the puck with aplomb.
7:27 p.m. ET – Lukas Cormier jumps up in the play and almost restores the lead for Canada, but his shot goes off the crossbar. Great stickhandling and vision on that play, but just a tough break. It's still 1-1 early on.
7:25 p.m. ET – GOAL: Czechia goes on a 2-on-1 break with Ronan Seeley caught up ice, and Jakub Brabenec goes on a give-and-go with Michal Gut, who buries it past Dylan Garand. After review, it's a good goal. This game is tied 1-1 with just over 10 minutes to go in the opening frame.
7:15 p.m. ET – GOAL: Mason McTavish has the puck on a string and pulls off an incredible solo effort, going to his backhand to keep the puck away from Pavel Novak before wiring a quick shot past Jakub Malek. It's 1-0 for the Canadians. Amazing play and silky mitts from the Ducks prospect.
7:14 p.m. ET – Dylan Guenther with a couple of good looks early, including one that goes off the goal post. It's still scoreless, but Canada generating some pressure here early on.
7:11 p.m. ET – The puck is dropped, and Canada's World Juniors campaign is officially underway.
Pregame
6:56 p.m. ET – Looking at the big picture, Team Canada has a wealth of NHL talent and likely the next two year's first overall picks in Shane Wright and Connor Bedard, along with 2021 No. 1 selection and Buffalo Sabres prospect Owen Power. Expect them to make an impact from the get-go.
6:02 p.m. ET – Team Canada announces its lineup against Czechia, which features 13 forwards, seven defensemen and two goaltenders. New York Rangers prospect Dylan Garand will start in net for Canada, while New Jersey Devils fourth-rounder Jakub Malek will get the nod for Czechia.
Connor Bedard is set to become the seventh 16-year-old to lace 'em up for Team Canada in World Juniors history and will start as the team's 13th forward on Sunday. The sensation made the World Juniors roster after a standout performance at camp and impressive play at the WHL level, and he is well on his way to likely being a future first-overall pick.
5:05 p.m. ET – Chicago Blackhawks forward Kirby Dach sends his best to the boys back home in Alberta.
Canada vs. Czechia start time
Time: 7 p.m. ET, 4 p.m. PT
Canada vs. Czechia is scheduled to start at 7 p.m. ET on Sunday to open the World Juniors.
How to watch 2022 World Juniors hockey games
Canada vs. Czechia will be broadcast live on TSN in Canada with live streams available via TSN.ca or the TSN app.
For viewers in the United States, NHL Network carries all World Juniors games live while streaming is available on fuboTV (7-day free trial), or on the NHL App or at NHL.tv.
Canada vs. Czechia odds
Canada: -1250
Czechia: +1700
Canada is a heavy -1250 betting favorite to beat Czechia in their preliminary game, according to Sports Interaction.
LIVE ODDS TO WIN 2022 WORLD JUNIORS
Canada World Juniors schedule 2022
| | | |
| --- | --- | --- |
| Date | Opponent | TV info |
| Dec. 26 | Czechia | 7 p.m. (TSN, NHLN) |
| Dec. 27 | Austria | 7 p.m. (TSN, NHLN) |
| Dec. 29 | Germany | 7 p.m. (TSN, NHLN) |
| Dec. 31 | Finland | 7 p.m. (TSN, NHLN) |
| Jan. 2 | Quarterfinals | TBD (TSN, NHLN) |
| Jan. 4 | Semifinals | TBD (TSN, NHLN) |
| Jan. 5 | Bronze/Gold | TBD (TSN, NHLN) |